News & Events
« Newer Entries
Griffin Filtration Has Received the ABS Type Approval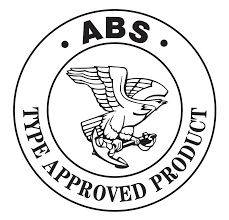 Griffin Filtration is very proud to announce to all our customers, distributors and dealers great news. Griffin's MAS and GFS series, the fully stainless steel compliance Fuel Filter Water Separator has been approved by the American Bureau of Shipping ( ABS ), which means Griffin Fuel Filter Water Separator has its ABS Type Approval. The News Daily of SMM, the leading international maritime trade fair also announced  Griffin's new ABS Type Approval  in Hamburg Germany on 9 September, 2016
For more than 150 years, ABS has been at the forefront of maritime safety. Today, ABS is a global leader in classification services to the marine and offshore industries. No other classification society in the world has the depth and breadth of experience of ABS across all major sectors of the marine industry. Griffin Fuel Filter Water Separator is likely the first filtration product that is fully stainless steel-constructed and in compliance with the new ABS Type Approval policy worldwide.  ABS Type Approval is available for a wide range of products for marine and offshore applications, industrial plant and processes, and the information technology sector. There are many benefits for producers and users, and the Type Approval process is practical, client-oriented and flexible.
Based on the ABS rule change effective on November 1, 2010, fuel filters used in steel-constructed marine vessels must meet new, higher temperature fire rating standards. Furthermore, new installations for ABS classed steel-hulled vessels require all steel type filters to be built based on the rules set forth by The International Association of Classification Societies ( IACS ), it is developing an IACS Unified Interpretation (UI) that will address SOLAS Regulation II-2/4.2.2.5.1 which states "oil fuel pipes and their valves and fittings shall be of steel of other approved material". Griffin's fully stainless steel MAS and GFS series fulfill such standards.
Griffin's ABS Type Approved Products: All the Griffin MAS Series and GFS5000 system.
Single MAS Series:
GTB228MAS, GTB455MAS, GTB341MAS (old code G900), GTB681MAS (old code G1000)
Double Manifold MAS Series:
GTB228DM-MAS, GTB455DM-MAS, GTB341DM-MAS (old code G900DM-MAS),
GTB681DM-MAS (old code G1000DM-MAS)
Triple Manifold MAS Series:
GTB681TM-MAS (old code G1000TM-MAS)
Filter System:
GFS5000
---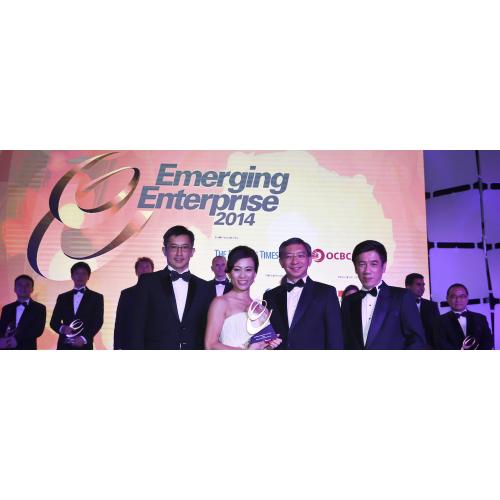 Griffin Excels From Its Position As No. 2
(26 August 2014, The Business Times)
SINGAPORE, August 29, 2014 – Griffin Group International Pte Ltd announced today that it is one of the top winners of the Emerging Enterprise 2014.  The inaugural Emerging Enterprise Award was first launched in 2008 to recognize outstanding small and medium enterprises (SMEs) in Singapore. The Emerging Enterprise is the first in the SME industry for being an award that reaches out to younger businesses. Jointly organized by The Business Times and OCBC Bank, supported by MasterCard, RSM Chio Lim, SingTel, ACORN Marketing & Research Consultants, INSEAD and SPRING Singapore, the Emerging Enterprise Award 2014 honors promising startups and aspiring SMEs with the drive to make waves on the entrepreneurial stage. Apart from the attractive prizes, the Emerging Enterprise Award 2014 offers invaluable recognition and empowers the SMEs to evolve to their next level of excellence.
The award presentation and gala dinner was held in The Ritz Carlton Singapore. Guest-of-Honour: Minister Teo Ser Luck, Minister of State, Minister of Trade & Industry. The VIPs include Ms. Claire Chiang, Co-founder and Senior Vice President of Banyan Tree Holdings Ltd ("Banyan Tree Resorts and Hotels").
---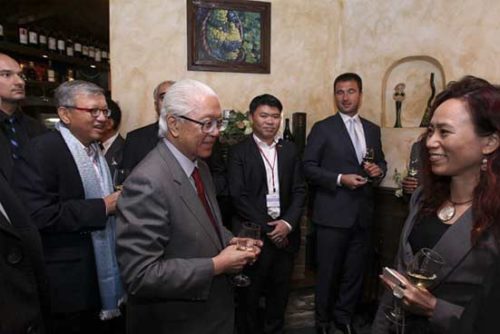 Visit to Europe with the President of Singapore, Dr. Tony Tan
With Other Business Delegates
Griffin Filter Water Separator has been established in the European market for more than 10 years. In 2013, Griffin was part of the business delegate group that visited Central Europe with President of Singapore, Dr. Tony Tan. Other prominent ministers such as Dr. Vivian Balakrishnan were also part of the group. During this trip, we officially appointed more European distributors and are proud to partner with them till today.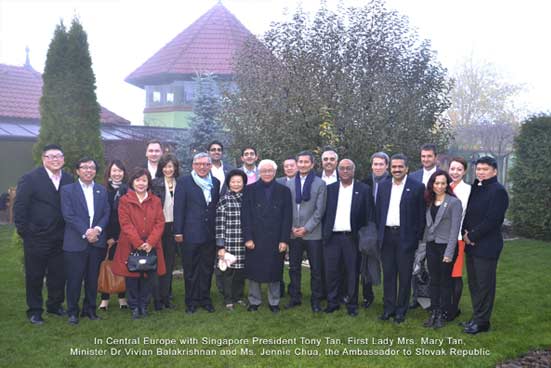 ---
Economics and Eco-nomics Steered Asia Pacific Maritime 2014
(28 March 2014, bloomberg.com)
Global filtration company, Griffin Group International Pte Ltd, inked exclusive  distributorships with three marine companies from Maldives, Malaysia and South Korea at APM.
---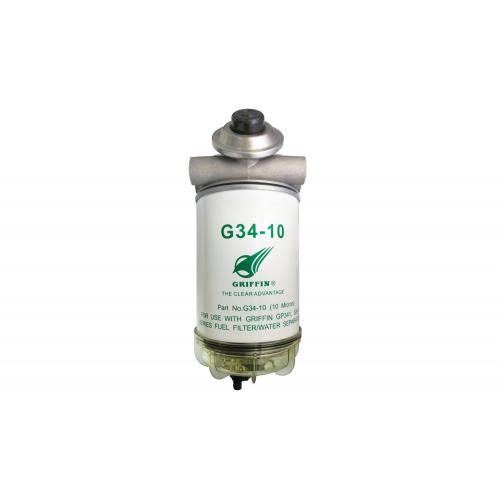 Griffin Fuel Filters / Water Separators Meet EU 4 and 5 Emission Standards
9 January 2014
Fuel injectors can cause a whole host of problems that can lead to major engine damage if not diagnosed and replaced or repaired as soon as possible. To diagnose a fuel injector problem you need a keen sense of your vehicle, a little time, some basic fuel injector knowledge and a good fuel filter to protect your fuel injector. If you use diesel engine, you should choose a Fuel Filter/Water Separator. You should not use the normal fuel filter.
For meeting the EU 4 and 5 emission standards, there are very few brands in the market. Griffin Fuel Filter/Water Separator is one of these few brands. Look at this Spin-On series Griffin GP341 with 10 micron size element and AC pump head. It is mainly used for Mercedes Benz, Man, Hino and Nissan trucks.
---
Older Entries »